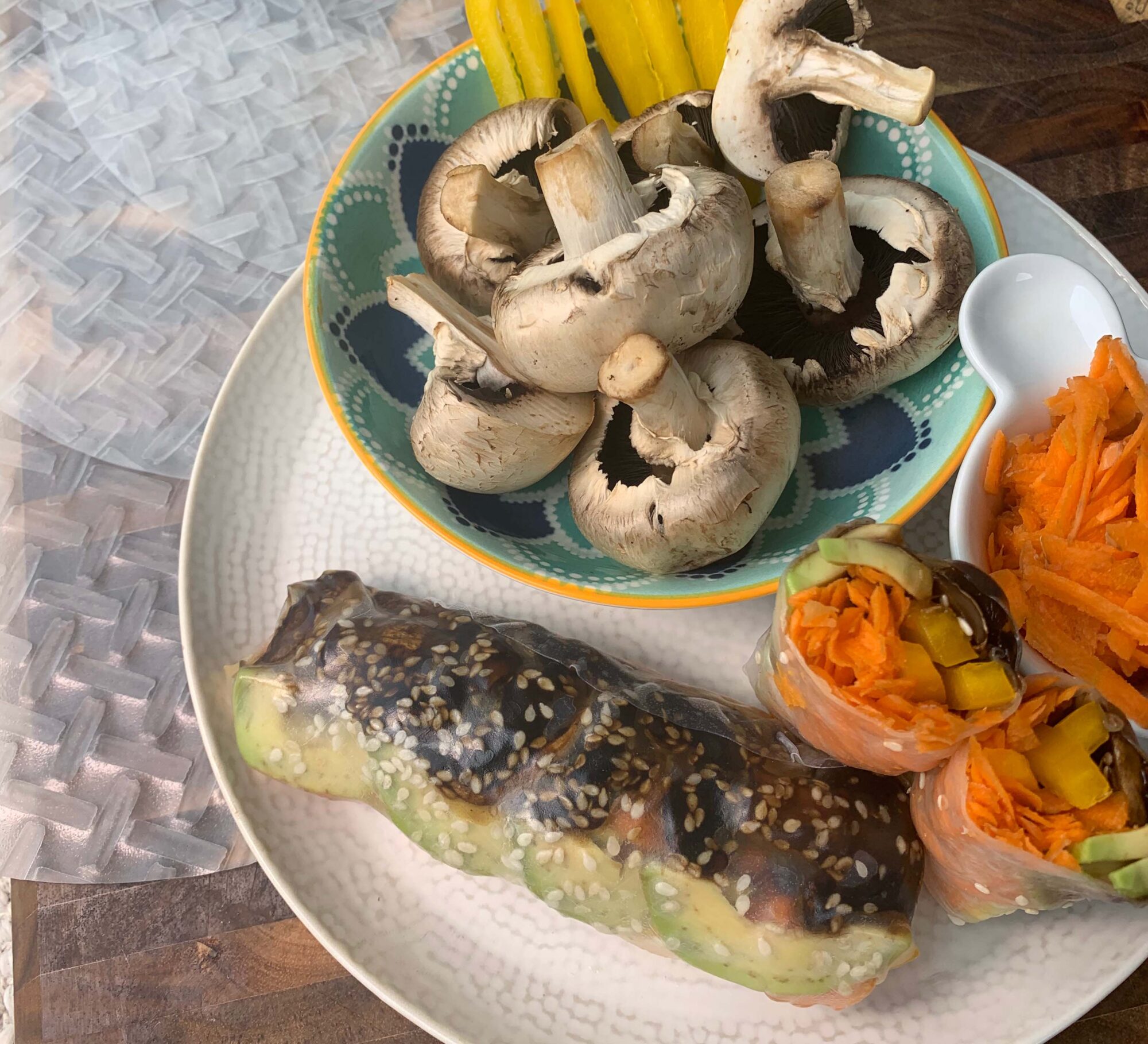 Ingredients
500
g
button/cup mushrooms, sliced
1
clove garlic, grated or minced
1
yellow capsicum, sliced
Optional - sriracha and kewpie mayo
Method
1
To make the sauce, add the soy, sugar, vinegar, garlic and sesame oil to a pan over medium heat and simmer for a minute or so until the sugar has dissolved
2
Add in your mushrooms and allow that to cook, stirring occasionally for a couple of minutes until the mushrooms have softened and the sauce has thickened slightly
3
Make a slurry by mixing the cornflour into the water until it is fully incorporated with no lumps
4
Pour the slurry into the mushrooms and quickly mix it in then stir until the sauce becomes thick and glossy
5
Sprinkle over the sesame seeds and toss until they fully coat the mushrooms then turn off the heat and set aside until needed
6
Working one at a time, rinse your rice paper roll under water until just moistened on both sides then lay out onto a clean cutting board. If you'd prefer to use a plate, rub it lightly with a splash of sesame oil to prevent the rice paper from sticking to it
7
Lay your veggies onto the rice paper in any order you like. This recipe did mushrooms, avocado, capsicum, carrot then sauces, which provides the easiest assembly to roll
8
To roll, begin by folding both sides over towards the middle, then repeat with one of the longer edges. Once you have 3 sides sealed, tuck the last edge tightly over the filling and roll it up to form a nicely sealed rice paper roll
9
Repeat with the remaining rolls and enjoy!
Ingredients
500
g
button/cup mushrooms, sliced
1
clove garlic, grated or minced
1
yellow capsicum, sliced
Optional - sriracha and kewpie mayo
Directions
1
To make the sauce, add the soy, sugar, vinegar, garlic and sesame oil to a pan over medium heat and simmer for a minute or so until the sugar has dissolved
2
Add in your mushrooms and allow that to cook, stirring occasionally for a couple of minutes until the mushrooms have softened and the sauce has thickened slightly
3
Make a slurry by mixing the cornflour into the water until it is fully incorporated with no lumps
4
Pour the slurry into the mushrooms and quickly mix it in then stir until the sauce becomes thick and glossy
5
Sprinkle over the sesame seeds and toss until they fully coat the mushrooms then turn off the heat and set aside until needed
6
Working one at a time, rinse your rice paper roll under water until just moistened on both sides then lay out onto a clean cutting board. If you'd prefer to use a plate, rub it lightly with a splash of sesame oil to prevent the rice paper from sticking to it
7
Lay your veggies onto the rice paper in any order you like. This recipe did mushrooms, avocado, capsicum, carrot then sauces, which provides the easiest assembly to roll
8
To roll, begin by folding both sides over towards the middle, then repeat with one of the longer edges. Once you have 3 sides sealed, tuck the last edge tightly over the filling and roll it up to form a nicely sealed rice paper roll
9
Repeat with the remaining rolls and enjoy!